Click Here to Shop for Classic Rustic Wainscoting Now!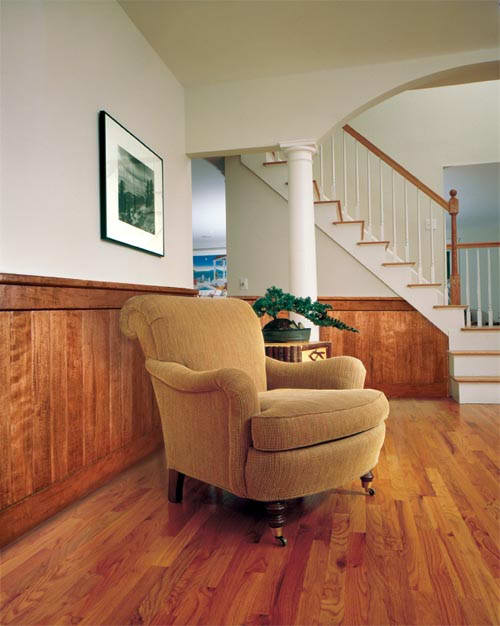 New England Classic offers a completely different look to wall paneling with Classic Rustic. Classic Rustic has the look of distressed wood as seen in hunting lodges, country inns, game rooms and vacation homes. It is crafted with pillow edged rails, chair rail and panels. Each component is meticulously hand scrapped, carved and finished to portray a rugged timeless beauty.
Classic Rustic components are packaged for convenient handling and installation in PanelSets of either 23" or 31" in height and four feet in length. The FramePak includes one cap, one top and one bottom rail and one shoe all 96" in length. The completed installation has a chair rail height of either 36" or 44".
Classic Rustic is available in maple veneer only, either unfinished or with a choice of three factory finish colors---Sorrel, Bridle, and Saddle. Or, for a small additional charge, we will match the stain color you specify.
History
Distressed wood wall paneling has been used for centuries to achieve a casual rustic feel for all types of rooms. It has proven popular in all parts of the country and with all types of architectural styles. No matter how formal the home, it's always a joy to have one room that displays the comfortable feeling of distressed wood paneling.
Applications
Classic Rustic is often used in vacation homes and cottages as well as family rooms, kitchens, libraries, and the less formal gathering places of primary residences.
View or download our Classic Rustic Wainscot System color brochure.